TRADITIONAL STEEL
Embossed Wood-Grain Texture
Adds beauty, sophistication and durability
Reinforced Door Construction
For maximum strength, durability and minimal weight
Durable Finish
Hot-dipped galvanized steel with two coats of baked-on polyester paint
Bulb-type Bottom Weatherseal
Guards against wind and rain while providing a cushion when closing the door
Warranty
Up to limited lifetime
DURAFIRM
Bonded Steel, Polyurethane and Vinyl
Provide you with incredible strength, impressive sound absorption and energy efficiency with an R-value of 11.75.
Wood Grain Texture
For the timeless look of freshly painted hardwood. (Available in standard panel style only).
Through-and-Through Color PVC Construction
Color goes all the way through the exterior vinyl skin so scratches are minimized.
UV-Resistant Resin
Contains special polymers that protect your door from the sun's harmful ultraviolet rays.
Twin Structural Struts
22-gauge steel C-channels run the full length of each panel and are anchored to interior steel stiles for strength.
Warranty
15 year limited warranty.
COURTYARD
Thermacore
® I

nsulation

CFC-free, ozone-safe, polyurethane insulation with Thermacore® construction provides a minimum
R-value of 11
In-Between-Section Thermal Seals
With an air infiltration rating of up to .08 cfm, seals provide superior resistance to the elements
Durable Finish
Hot-dipped galvanized steel with two coats of baked-on polyester paint
Overlays Sealed From Elements
Specially treated trim boards resist weather, fungal decay and insects
Quiet Operation
Commercial grade track and hardware featuring durable 13 ball bearing urethane rollers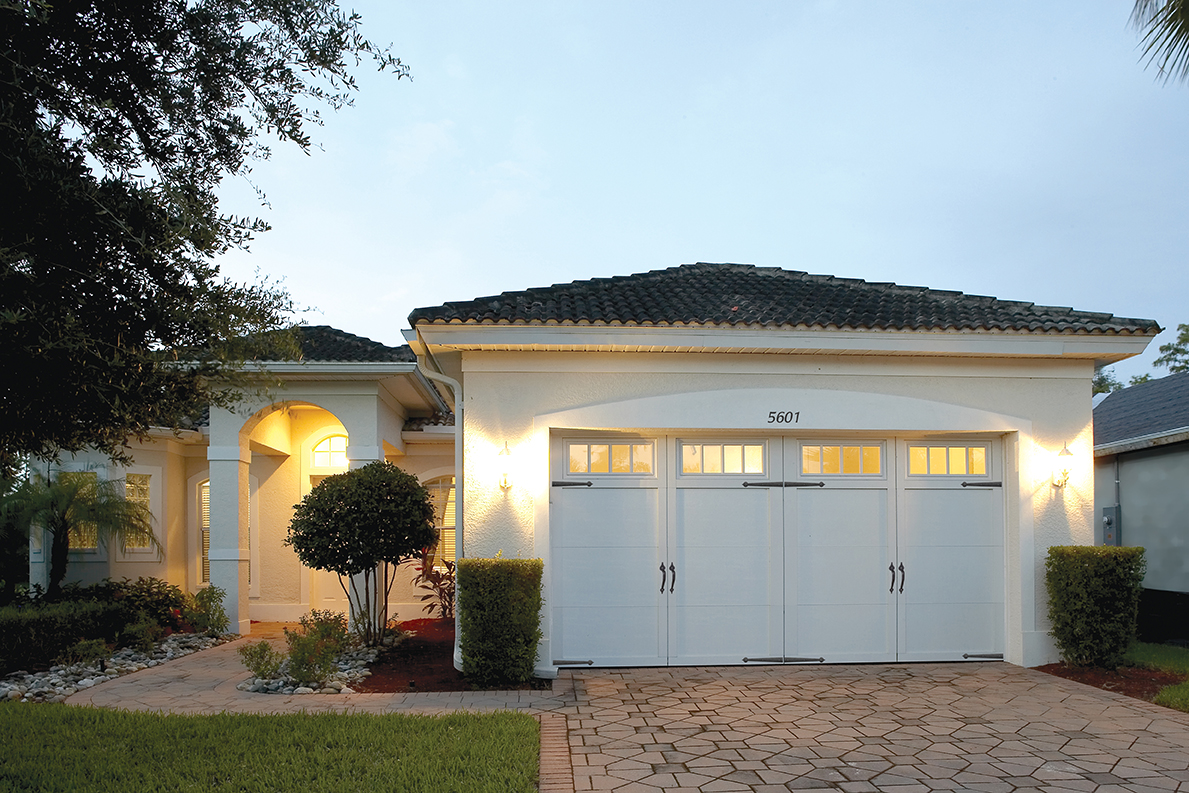 CARRIAGE HOUSE
Embossed Wood-Grain Texture
Adds beauty, sophistication and durability
Polyurethane Insulation
Provides thermal efficiency with an R-value of 10
Embossed Steel-Back Interior
Provides clean finished look inside the garage
Durable Finish
Hot-dipped galvanized steel with two coats of baked-on polyester paint
Bulb Seal
Located on bottom of door; protects against the elements
SIGNATURE CARRIAGE
Detailing
Distinctive appearance and detailing of carriage house wood doors
Styles
Wide range of beautiful carriage house styles
Material
Constructed from the finest Cedar, Hemlock and Mahogany woods available
Quality
Amish craftsmanship
Hardware
Heavy-duty hardware with decorative options
Windows
Multiple window options
Insulation
Polystyrene insulation available for all series (R-value up to 4.75)
MODERN ALUMINUM
Standard (Model 511) or Heavy Duty (Model 521) Frames
Choose which best complements your home.
Commercial-Grade Aluminum Frame
Low-maintenance and corrosion resistant.
Integrated Stiffening Struts (Model 511)
Strong, light-weight struts are included in the design of the rail assembly to enhance durability.
Stylish Hardware
Hinges and fixtures are galvanized to maintain a contemporary look.
Warranty
1-year limited
Design Flexibility
Available in a variety of vertical rail widths and horizontal stile widths to complement the style of your home.
Solid Aluminum Panels
Available for a unique, distinctive look.
Glass
An array of glass choices are available (both insulated and non-insulated) including: double strength, obscure, satin, laminated white, low E, tempered, tinted, clear polycarbonate, multi wall polycarbonate and clear acrylic.
Colors
Clear anodized finish comes standard. Dark bronze and black anodized finishes are also available. Select from 188powder coat color options to best match your home.
Wind Load (Model 521)
Can be fitted to meet wind load building requirements.
IMPRESSION COLLECTION
Fiberglass Exterior
Utilizes Therma-Tru®AccuGrain™ technology for the beauty of wood without the maintenance.
Multiple Design and Color Options
Choose the glass, design and color to perfectly complement your home.
Factory Installed Powder-Coated Hardware
Ensures proper alignment and smoother operation with a clean interior appearance.
Foamed-in-Place Polyurethane Insulation
An R-value of 7.6 helps control costly heat loss and gain. This type of insulation can diminish street noise and makes the door more quiet as it operates.
Designed With Award-Winning Safety and Technology Features
Pinch-resistant door panels.